Accommodation in the Horsky dum
Family pension "Horsky Dum" in Pec pod Snezkou, a beautifl little mountain village nestled in the Snezka and Studinicni mountains of the Krkonose mountain range.
Founded in 1912, "Horsky Dum" recently underwent a lot of remodeling. Today we offer guests a comfortable stay in a warm and humble family atmosphere, each room with its own bathroom and shower.
Pec pod Snezkou - Giant Mountains
The picturesque mountain town of Pec pod Sněžkou (750 m.a.s.l.) is the most frequent starting point of the trip to the mount Sněžka.
The top of Sněžka
has always been visited by tourists. As early as 1681, the fourteen-metre chapel of St. Vavřinec was built here. Then, in 1850, it was the chalet Slezká and, in 1868, the chalet Česká that was provided with a post office and a telegraph.

Pec pod Sněžkou
is not only a picturesque mountain town in the valley of the Úpa river, but also an important tourist and sports centre. Thanks to its location in the heart of the Krkonoše national park, our town is the ideal place for combination of experience and relaxation.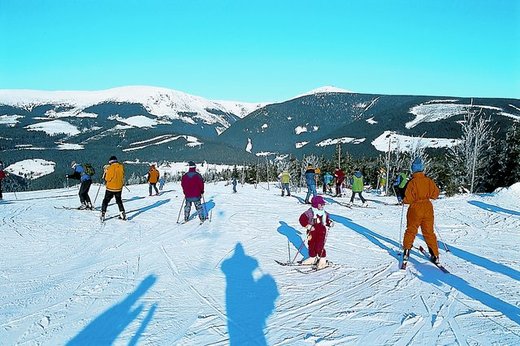 New cableway to Sněžka
The easiest way to reach the Czech Republic's highest mountain is to use the cableway. Its lowest station is about 30 minutes from the town centre. The cableway, which is in operation daily except for April and November, has two sections. The operation of the higher section from Růžová hora to Sněžka depends on the weather conditions.