History of Horsky dum
More than 65 years of the Lorenc family heritage
The first interesting fact about "Horsky Dum" is from the years 1911-1913. The building was built by Mr. Emil Berger; about 40 m lower than the first Berger family establishment. Now there sits a beautiful pasture. Still today there is a mere image of the original cottage.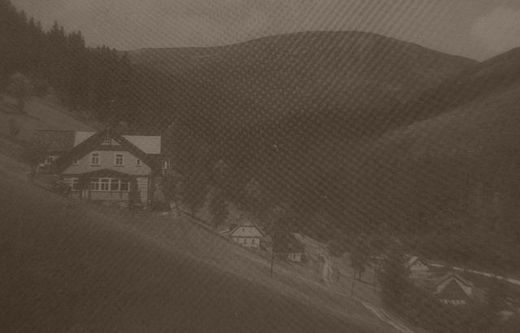 The pasture around the house, sizeable to almost 2 ha and the woods above belonged to the original owners. They installed a well along with all necessary water pipes, which are fully functional yet today.
The family made a living through farming and work in the woods. According to some old finds at "Horsky Dum", they even rented out 3 rooms. Prices ranged from 0,90 – 1,50 RM/Imperial Marks. In the winter, guests paid extra for heating.
Adalbert Berger, a part of another Berger family generation, lived in "Horsky Dum" during WWII. After the war, they were expatriated from their home by the government.
Since September of 1946, the estate belongs to the Lorenc family. There was a contract signed between Czechoslovakia and Anna and Vaclav Lorenc for the property, where there after they moved from Prague to Pec pod Snezkou, "Horsky Dum"..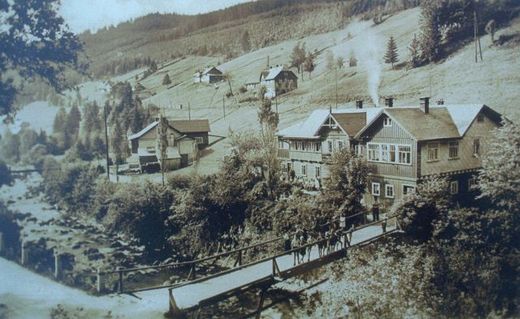 After WWII, life was tough and the family made a living through farming. In the home there was a barn where they could keep up to 5 farm animals. Vaclav Lorenc also built his own seamster shed. During the growth in traveling tourists, "Horsky Dum" received its first customer in 1948. Except for a bed, guests were offered their own milk, butter, curd, eggs, and buttermilk. In 1950, there were 5 simple rooms available for rent with one cold water running sink where water could be heated on a stove.
Between the years of 1962-1963, guests started coming to us from the former NDR. Many extras were forbidden including; making breakfast, selling milk, cheese, curd, butter, and so forth. Guests were allowed to cook their own meals with kitchen accessories provided in the hall. In 1969-1970, the building went through its first remodeling, where central heating and warm water were provided for each room. Each room was also modified and provided with new furniture. Two flushable toilets were installed for guests, replacing the outhouses provided to this point in time.
In 1972 we were the last family close to the center forced to cancel the selling of our farm goods. The selling of farm goods and renting of rooms was not allowed, if not through the government. Through 1989, it was very difficult to take in guests from a capitalistic country. After 1989, a change in laws made it possible to own and run your own establishment. Until 1991, "Horsky Dum" was run by Anna Lorenc where at 70 years old she handed down care to Eva and Vaclav Lorenc. "Horsky Dum" underwent many developmental changes. Guests have their own showers and new toilets. For the first time, 3 rooms were built with their own social privacy.
After 50 years of caretaking for "Horsky Dum", we decided to completely remodel the building in 1999. From May to December of 2000 the reconstruction of the building, is what guests can expect to see today. Towards the future we would really like to expand the services offered in our pension.
In "Horsky Dum" we also have our own well which is 600 meters up the hill in the woods, where the water is drinkable. The well is from 1912, when the building was first built. Upon request, we can show you the protocol for which the water is tested twice a year. Some guests even fill up containers to take home with them. In the winter the water has a temperature of 2-4°C and in the summer 7-8°C.
With this, we open heartedly welcome you to stay with us at "Horsky Dum" in Pec pod Snezkou.
Eva a Václav Lorencovi
Horský dům 195
542 21 Pec pod Sněžkou